Wedding Band Birmingham – The Junos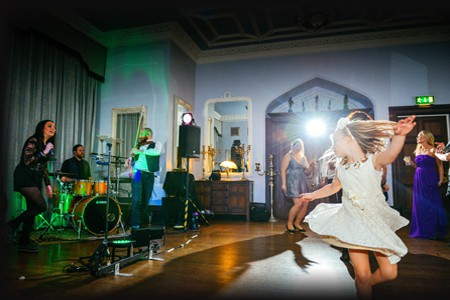 Bringing the Good Vibes and Anthems to Weddings in Birmingham
Established in 2011 The Junos have been rockin' weddings in the Birmingham area week in, week out. They have performed at venues such as; Hagley Hall, Berrow Court, Botanical Gardens, Moxhull Hall, New Hall, Moor Hall, and The Belfry leaving a host of delighted clients in their wake. Check out their Facebook page for the latest gig news and testimonials.
The band specialise in performing the best dancefloor-filling tunes, faithfully reproduced with a perfect blend of pristine sound and natural live energy. You can expect five multi-instrumentalists at the top of their game seamlessly moving between; soul, disco, pop, rock and modern hits without taking a breath.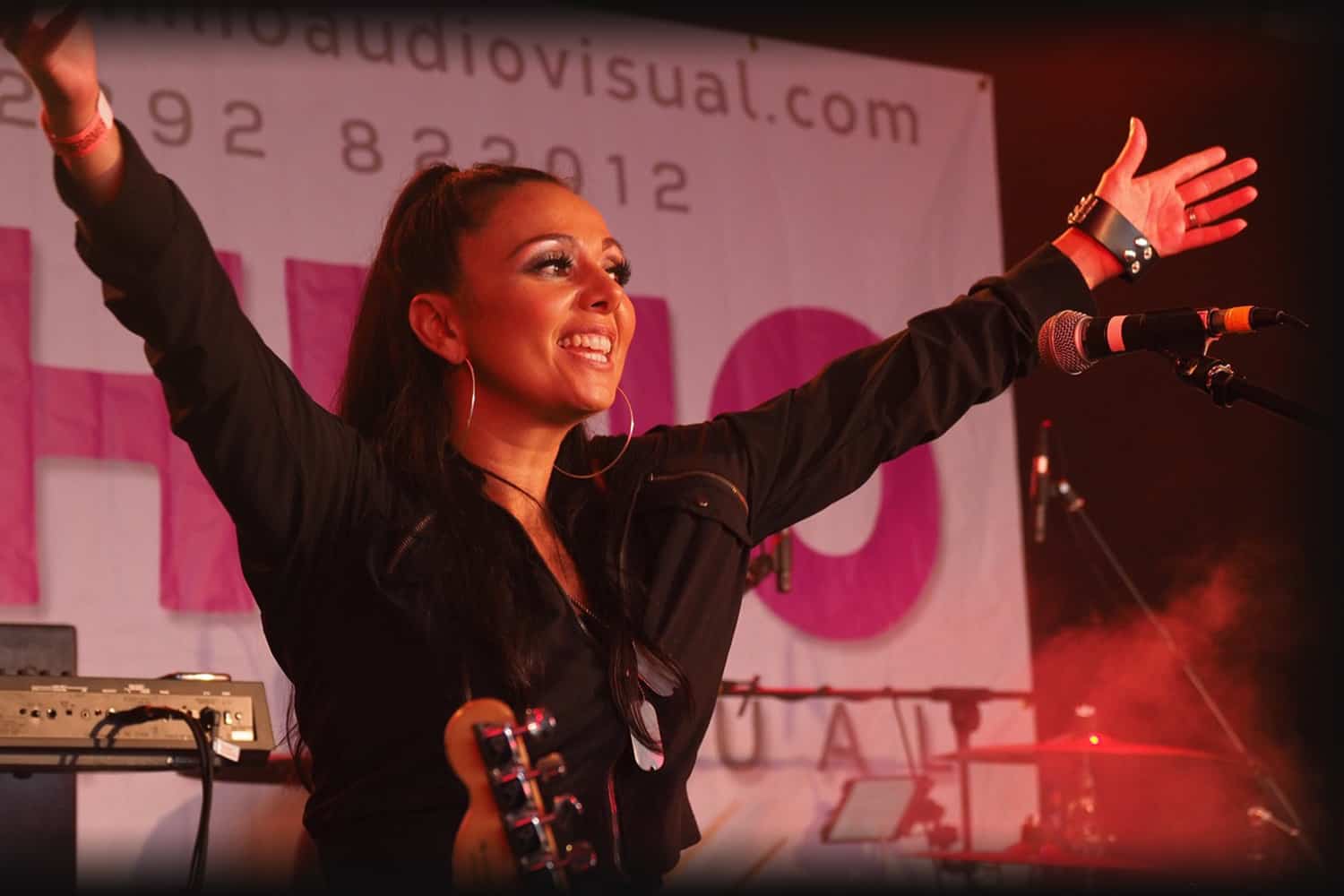 Modern Wedding Music Birmingham
The Junos offer a modern take on the private hire band and have fully embraced modern technology. They are one of the only bands in the UK faithfully recreating electronic dance music live enabling them to perform a wider repertoire, offering a musical experience your guests are unlikely to have seen before.
Their sister band Rock The 90s! is currently touring a dedicated live 90s dance show at UK festivals this summer, making The Junos the perfect band for a 'rave' or 'festival' themed wedding.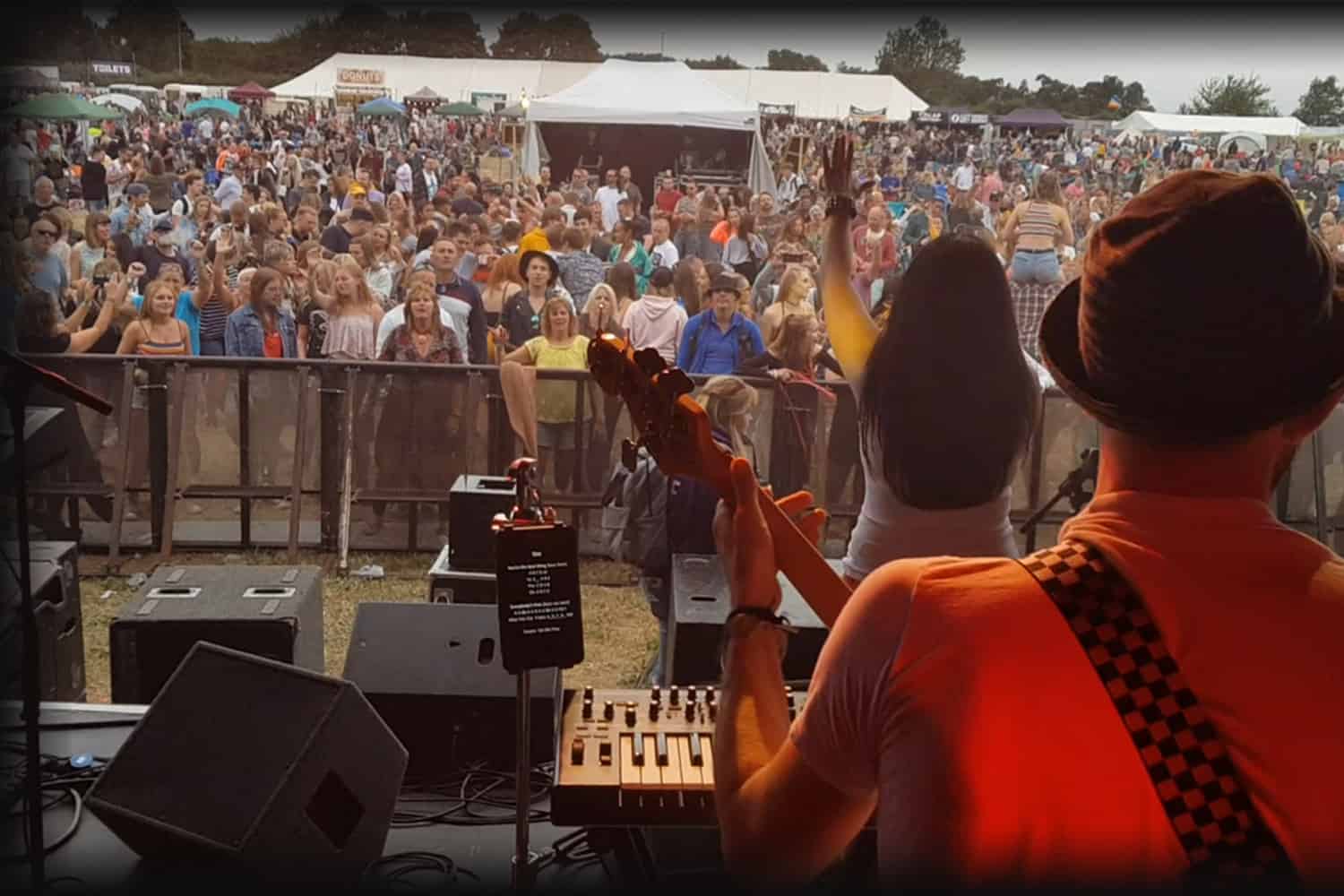 Why Book The Junos for your Wedding?
The Junos are on-hand to cater for your special day wherever you are in the Birmingham area
They offer a wealth of experience performing at a many high-class hotels and wedding venues in Birmingham
They take absolute pride in providing the most professional service possible.
They will model their set list to suit you, ensuring both you and your guests have a night to remember.
They can perform a first dance live for you (for free, or a small rehearsal fee)
They offer a number of afternoon acoustic entertainment options.
Archived Gig Blogs From The Birmingham:
(For our latest gig blogs and testimonials please use our social media links at the top of the page – thanks!)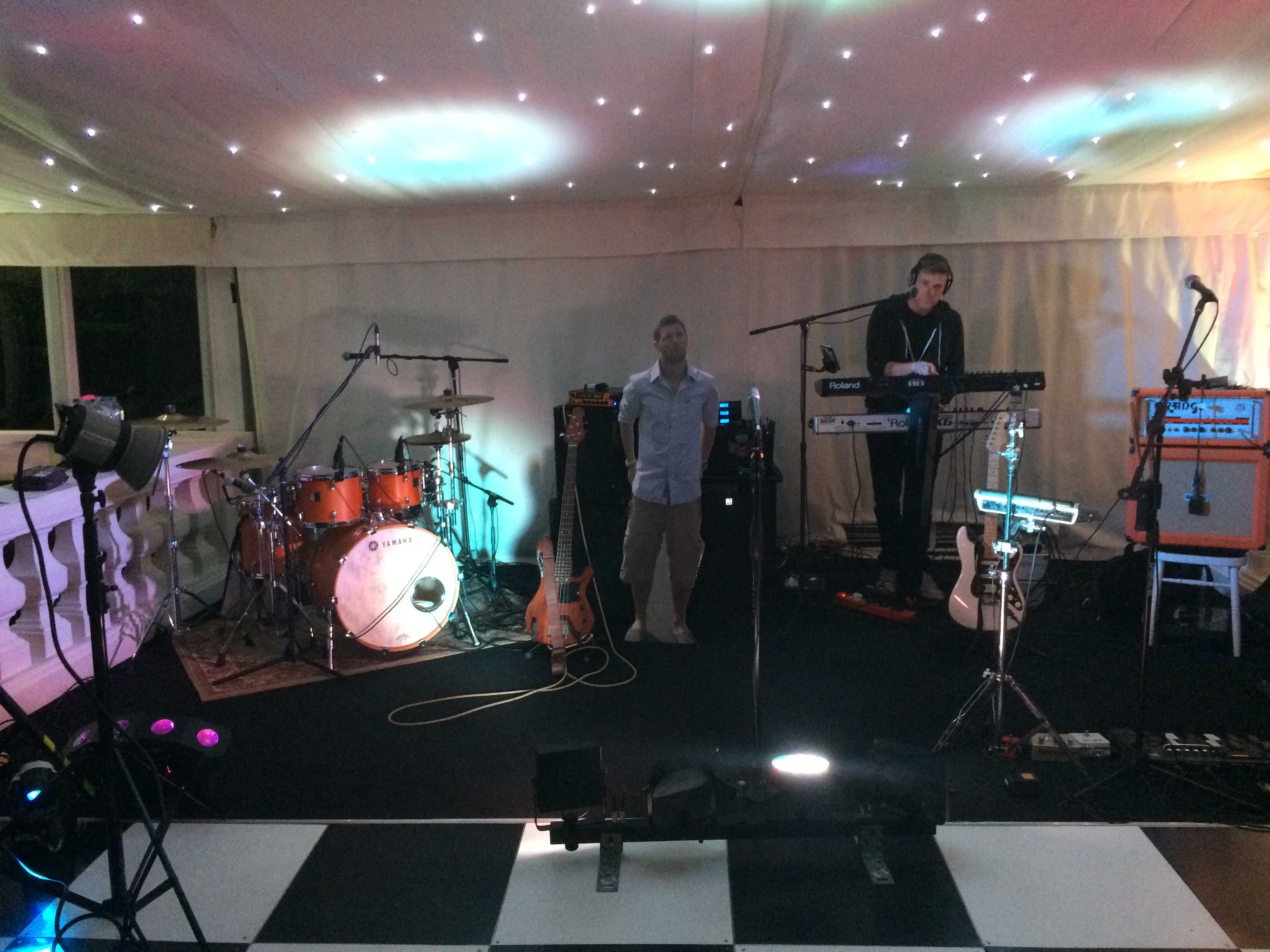 Timm and Tracy's Wedding
Wahey – a gig which didn't require me to go via Catthorpe…! In fact, this gig was so local I could have walked it, a definite result for the Birmingham band members (basically everyone bar Mark).
Tonight saw us perform at Timm and Tracy's wedding at the beautiful Moxhull Hall in Sutton Coldfield. We have performed here a number of times before and always enjoy the gig (as the staff are friendly and the room/marquee sounds great!). The mock Roman plinths either side of the stage also add a touch of 'grandeur' to the proceedings (got to love a mock Roman plinth, definitely a future rider request). Read More…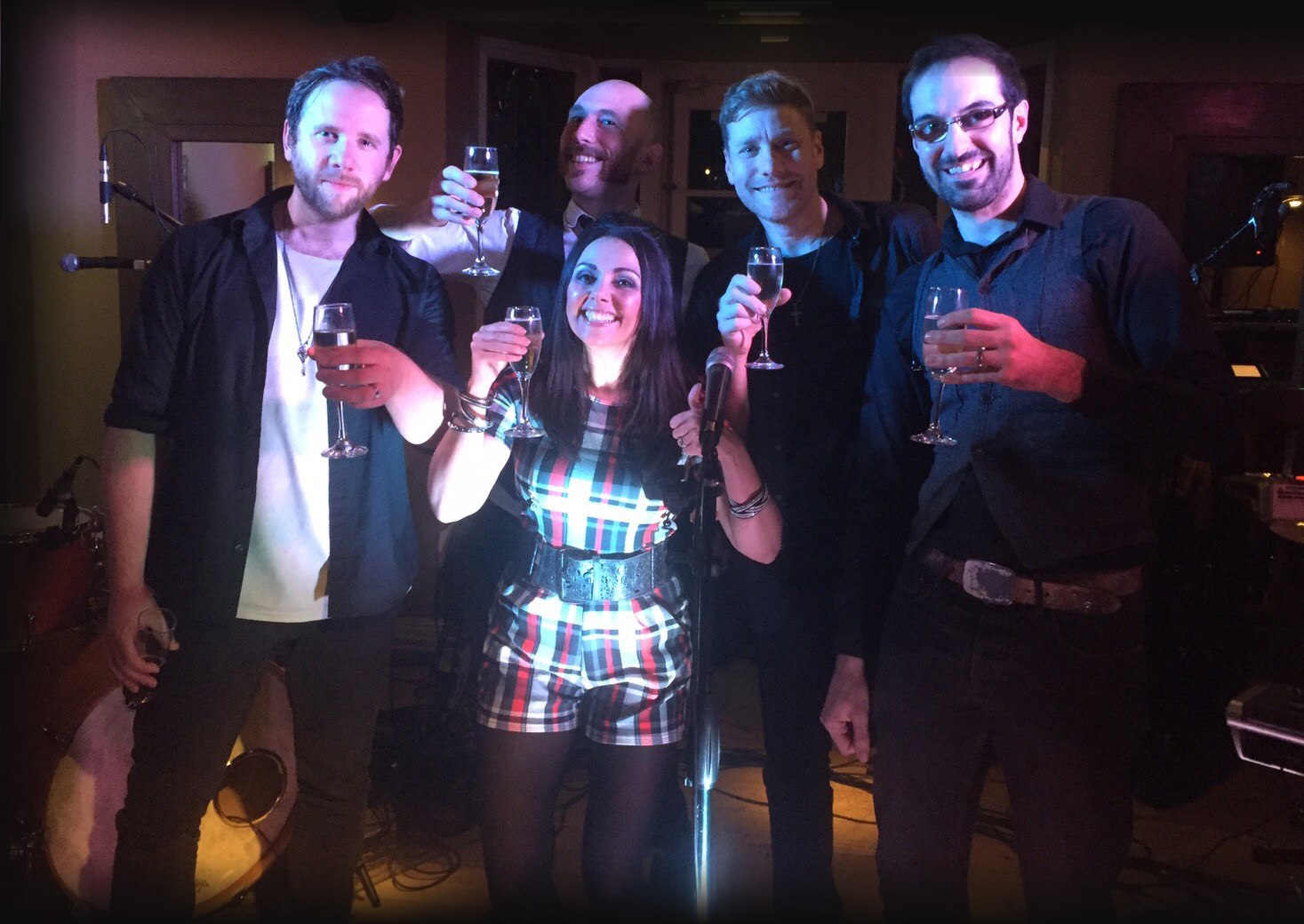 New Years Eve, The Cock Inn, Sutton Coldfield
The end of a great year, by all accounts
And what better way to see out 2015 than to spend New Years Eve at one of our favourite country pubs for a spanking knees-up with some of our nearest and dearest. Hazel and co at The Cock Inn, Wishaw do a fantastic job of looking after us and our guests – five course meal no less! – and the atmosphere is always really welcoming. No '5-deep at the bar' antics for us…!
It was lovely to have our friends Rob and Helen, Mark's wife Becky and Tim's wife Laura (who is with child!) in attendance and it was also lovely for me as the venue is literally one mile from my house. No A14 for me, no sir…. Read More…
.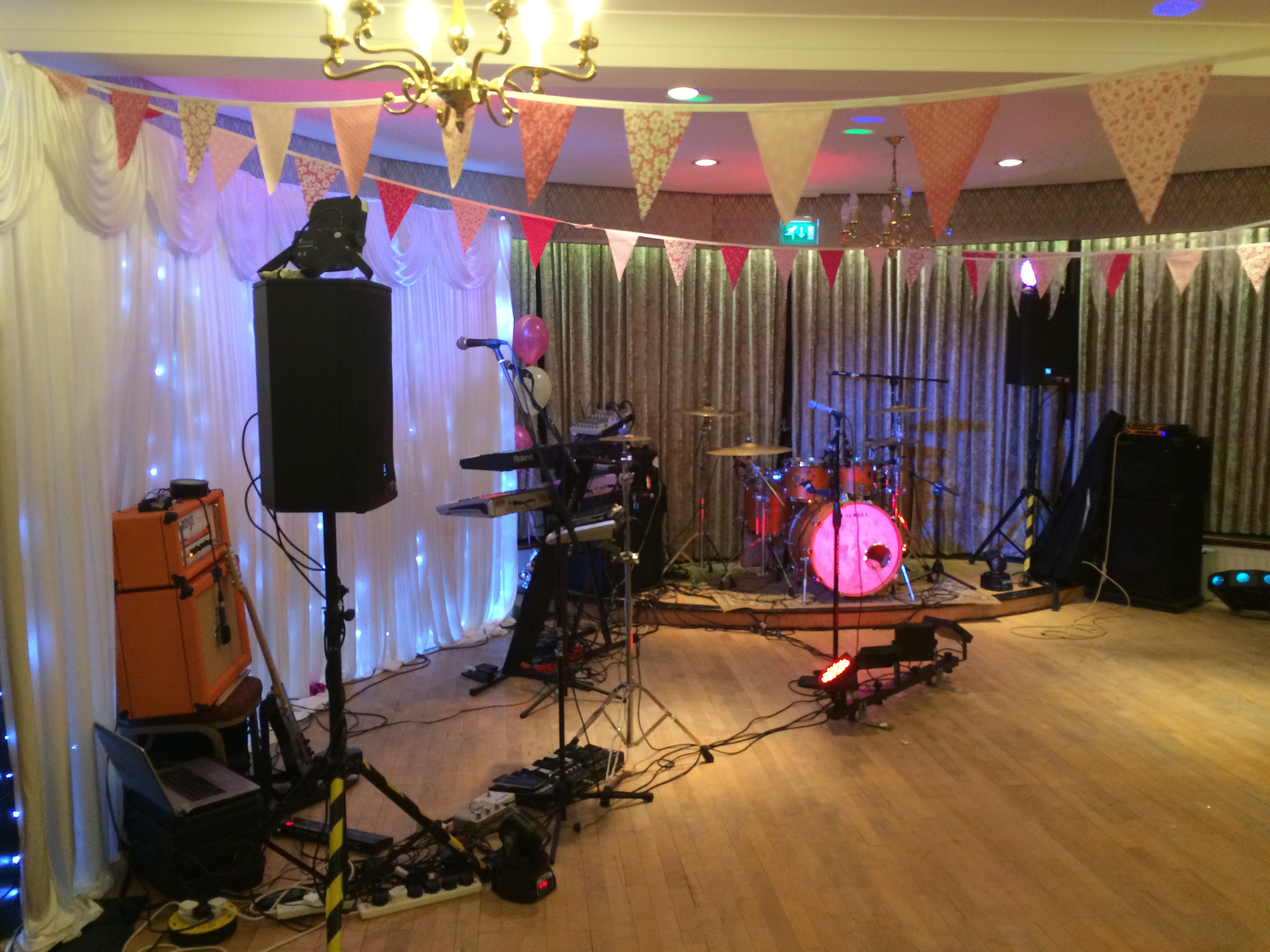 Chris and Siobhan's Wedding, Walsall Golf Club
After seamlessly endless forays to 'The East' it is very nice to be back in the Midlands again for Chris and Siobhan's Wedding at Walsall Golf Club.
The pressure was on, as these guys are musos too (Chris a guitarist and Siobhan and vocalist)… We also had to pull-off one of our special 'get-in, set-up and soundcheck in under an hour' feats to be ready for their guests at 7.30pm. The heat was on…
Needless to say, we rose to the challenge and rocked the socks off the guests (naturally)! We'd also like to thank Walsall Golf Club for looking after us, your samosas are the stuff of legend – Read more…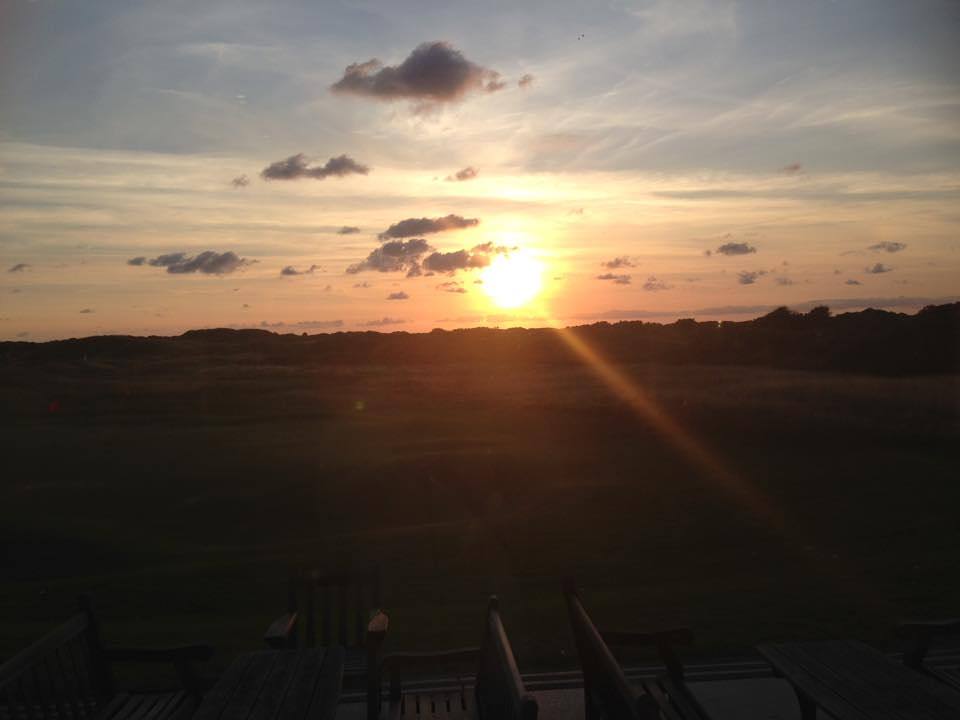 Reames Wedding, Boathouse, Sutton Coldfield
We are so lucky to find ourselves in these beautiful locations each week, and this one is especially brill as it's on mine and Debbie's doorstep…!
The Boathouse is a gorgeous restaurant located in the grounds of Sutton Park in Sutton Coldfield, on Bracebridge Lake and we'd been invited to play at the Reames' wedding. It was also special as we unleashed some new material, including King (Years and Years) and our new 90s Mash Upmedley (featuring one of my favourites; Girls and Boys by Blur). We make an effort to keep the set fresh and were pleased these tracks went down as well as we hoped they would, whoop! Read more…
Archived Gig Blogs…
Tags
Wedding Band Birmingham, Live Band for Wedding Birmingham, Wedding Entertainment Birmingham,  Live Wedding Music Birmingham, Wedding Bands in Birmingham,